This is the only sure fire way to fix those ugly colors in starcraft, I've tested this and it works 100%. Please follow these steps to fix it:
(If this seems too confusing for you click
here
to check out the small program i wrote to do all this for you.)
Step 1: Press
CTRL+ALT+DELETE
to open your task manager.
Step 2: Click on
processes
tab, find the process named
explorer.exe
and highlight it by left clicking on it, then click
End Process
(
WARNING: THIS WILL EXIT YOU OUT OF YOUR DESKTOP, YOU WILL NOT SEE YOUR TASKBAR OR ICONS ON YOUR DESKTOP. HOWEVER THIS IS NOT HARMFUL, YOU CAN EASILY FIX THIS BY STARTING explorer.exe UP AGAIN
). When the message pops up to end process, click
End Process
.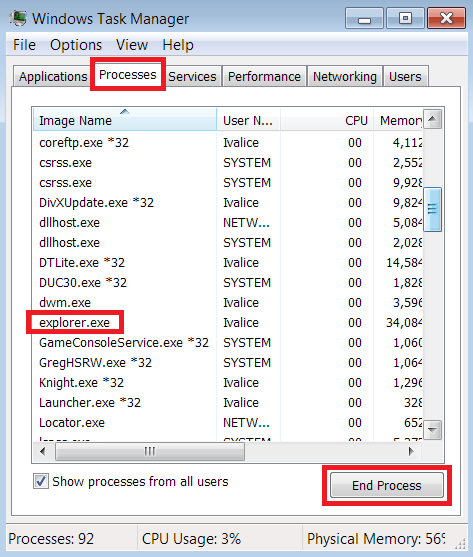 Step 3: To get back to starcraft or the game you were playing, Press
ALT+TAB
to get back to it.
If you want to see your desktop again, you must start the process again. To do this follow these steps.
Step 1: Open task manager again, this time at the bottom click
New Task...
. When window opens to enter the name of the task you wish to load, type in
explorer.exe
. Click
OK
to confirm.
Have fun playing starcraft, this also works for other games that have the same issue. Remember to reload your desktop by following the last step to get ur desktop back. I've tried everything else, and this is the only thing that works.
UPDATE: I've included a simple program that you can run to do all this for you, plus it'll launch starcraft and diablo 1 as well.